Disclaimer
All material provided on this website is provided for informational or educational purposes only. Please consult a physician/doctor regarding the applicability of any opinions or recommendations with respect to your symptoms or medical conditions or before beginning any dance or exercise taught on this site. Click here for additional information and agreements of use for this site before proceeding.
Welcome to Bawdy and Soul Studio!
Belly Dance Basiques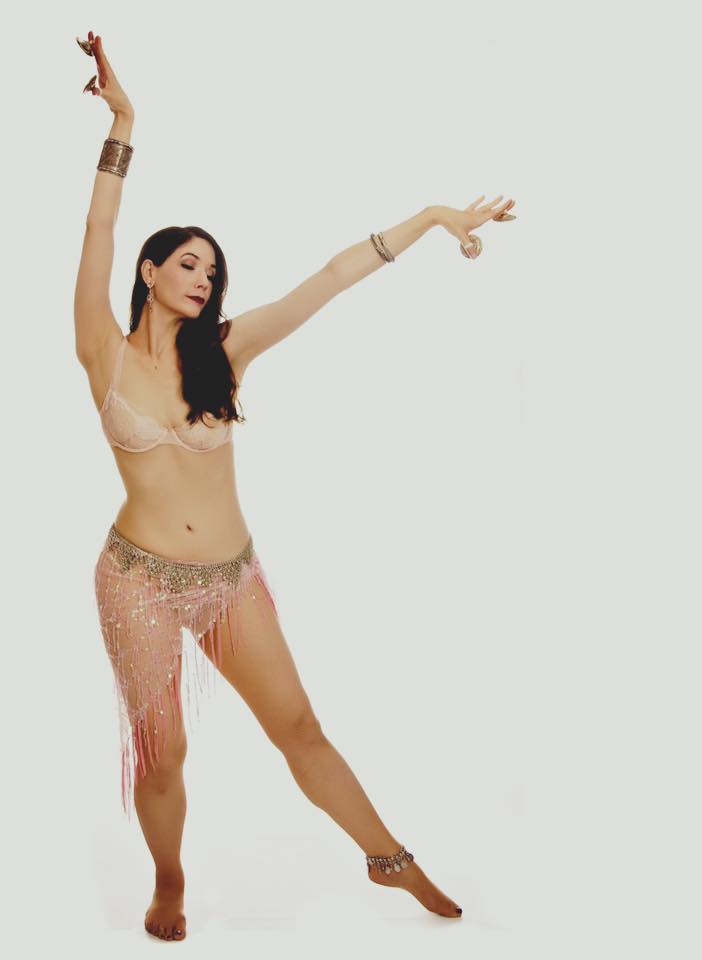 Bellyoga Basiques Warm-Up
This short warm-up is how I begin all my bellydance classes, as it's a super sensual series of stretches! It's got sunrise arms, side hip pushes, squats, and even some shoulder rolls and hand swirls. You can use this warm-up before some shimmies or snake hips and then again to wind down afterwards.  What a lovely way to start or end your day while keeping your hip joints soft and supple <3
Bellyoga Basiques – Daily Shimmy Drills!
Fire up your fat burning potential in just 15 minutes a day! In this sample from my first Bellyoga Basiques class, Shuddering Shimmies!, you can settle into an assortment of shimmies, including the 3/4 shimmy, both the straight and bent knee shimmy, shimmies in a squat, and even a little layering.
Do this short segment on the daily and you'll master the most basic and beguiling move in bellydance, while building a more beautiful, bouncy butt!

The Lunatique Technique – Super Simple Snake Arms!
This short tutorial from the fourth class in the intermediate-level Lunatique Technique series will teach you the most mesmerizing of arm movements: the Snake Arm!
In it I give you the beginner basics, including how to articulate your joints using "bird arms," how to master each side and then sync up your snake arms with each other, and even how to regulate the band width of these waves, making them as big or as small as suits you.  Even if you're not a bellydancer, these techniques are great for toning your arms, shoulders, and even your back, loosening any tension in these too often tight spots : )
The Lunatique Technique – Super Slinky Snake Hips!
This is a short segment from my first class in The Lunatique Technique, Slinky Snake Hips!, to start mastering and "milking" this sinuous movement.  Otherwise known as a Taxim, this slinky sway is all about pulling up and in, seducing and sucking in your onlookers from all sides! In this video I go over a variety of ways to get this super juicy movement into your hip joints and even how to keep your lower back safe in the process.
Do this on the daily and you'll have this slinky and seductive move down in no time!

Bellyoga Basiques – Ooey Gooey Hip Circles!
Ready for some bellydancing on your back? This practice is perfect for getting the ooey gooiest of interior hip circles, all the better to be beguiling with your bellydance!
Doing these on your back allows you to isolate each side of the circle just so, especially when we come up and do it on our toes. Plus you can do these in bed, either to wake up or wind down, helping you simultaneously start or end your day AND perfect this signature circle.  This short session even ends with an energetic flow called "the breath of desire," a juicy gyration that is sure to get you in the mood for even more movement, just maybe in a different position ; )
The Lunatique Technique – Super Juicy Side Circles!
In this short sesh from my second class in The Lunatique Technique, Super Juicy Side Hip Circles, I cover my favorite ways to make some super juicy hip circles!
First we start with a side hip circle, connecting our diamond dots and smoothing them out from back to front.  Next we dig into the interior hip circle, or omi, then lift it on one leg to make the side circle even juicier. Finally we switch sides and repeat! As you simultaneously massage your ovaries and seduce, you'll be reminded how this feminine art form first formed as a fertility dance ; )
The Lunatique Technique – Belly Rolls Breakdown!
In this week's video I breakdown the belly roll, a bellydance basique that makes your undulations even more mesmerizing!  
First I show you the three sections of your midsection, all the better for separating and isolating them just so. Then we learn how to link them with some liquid movement, starting with some seated undulations and then some side chest circles. Finally we bring it all back to the belly and put these ripples on repeat.  These moves are magic for working your abs and even help massage away menstrual cramps if you happen to be in the PMS period of your monthly cycle : )
Burlesque Basiques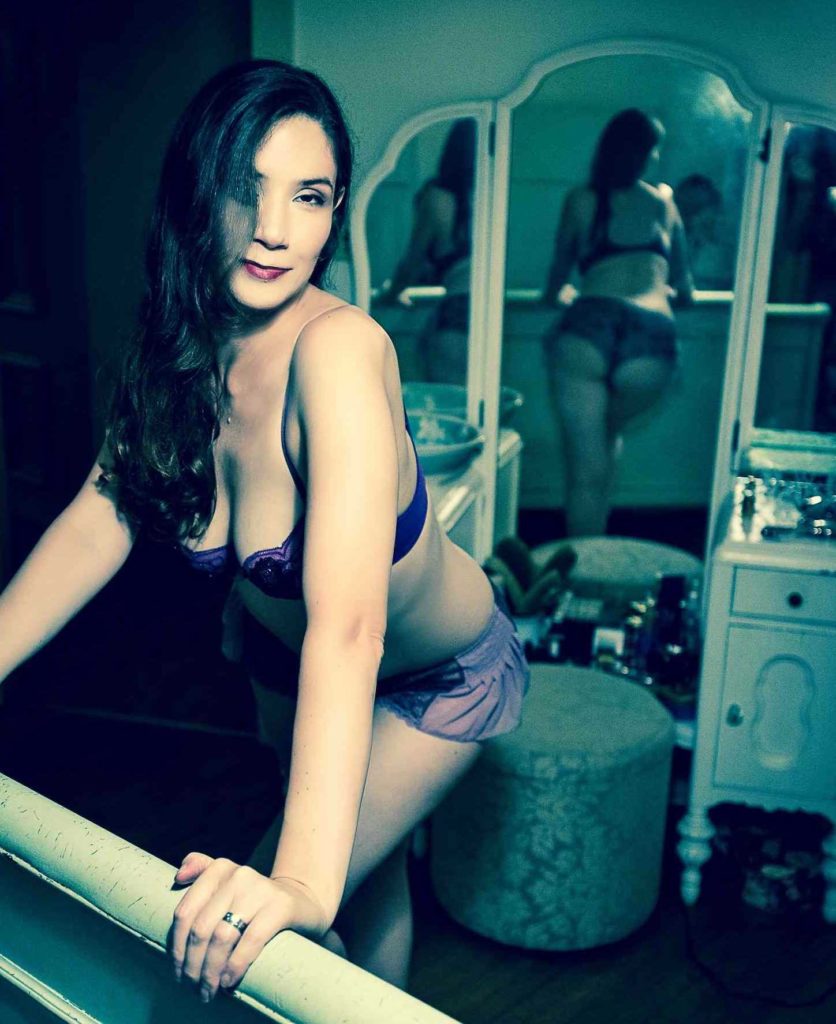 BurleXXX – Pinup on Pointe!
This premiere preview will make you a pinup on pointe! A beautiful blend of burlesque and ballet, this brief balancing act will develop your dancer's poise by moving you through various pinup poses, all while staying on the balls of your feet.
These include passes with hip lifts and drops, pivots from side to side into a "Goddess Pose," and even some extensions for high-heeled kicks. This session is short but has some serious strength training, working your glutes, your gams, and even your abs as you keep your core corseted the entire time! Practice these pinup poses a few times a week and you'll perfect a natural grace that others can't help but notice : )
BurleXXX – Showgirl Legs!
In this short stretch from my first BurleXXX class, Showgirl Legs!, we tap into your inner showgirl and show off your stems! This 10-minute segment can be done daily to tighten your tummy and thighs, and oh so soon you'll be able to show off your tautness and hotness ; )
BurleXXX – Pinup Pilates!
Now it's time for some Pinup Pilates, so we can swivel and show off those Showgirl Legs! This short session uses targeted circles, lifts, and "clamshells" to streamline your stems, thin your thighs, and even sculpt a high-end rear my dear. So put these Pilates presses to work 2-3 times a week, and you'll have your own set of Pinup pins in no time : )
BurleXXX – Burlesque Booty Chair Break!
This 10-minute booty break uses your seat to stretch and tone your thighs and tooshie, sculpting your own sinsational seat to sit on!
First we slide under your (sturdy!) chair and use it as a prop in some more pinup Pilates. Then we get on our backs and use it for some bridges and bumps, building a better burlesque booty. Finally we come into some crunches and fan our legs with flair on either side of the chair.  Fit this fitness quickie into your week 2-3 times and you'll tone your tuckus in not time ; )