Disclaimer
All material provided on this website is provided for informational or educational purposes only. Please consult a physician/doctor regarding the applicability of any opinions or recommendations with respect to your symptoms or medical conditions or before beginning any dance or exercise taught on this site. Click here for additional information and agreements of use for this site before proceeding.
Belly Dance Basiques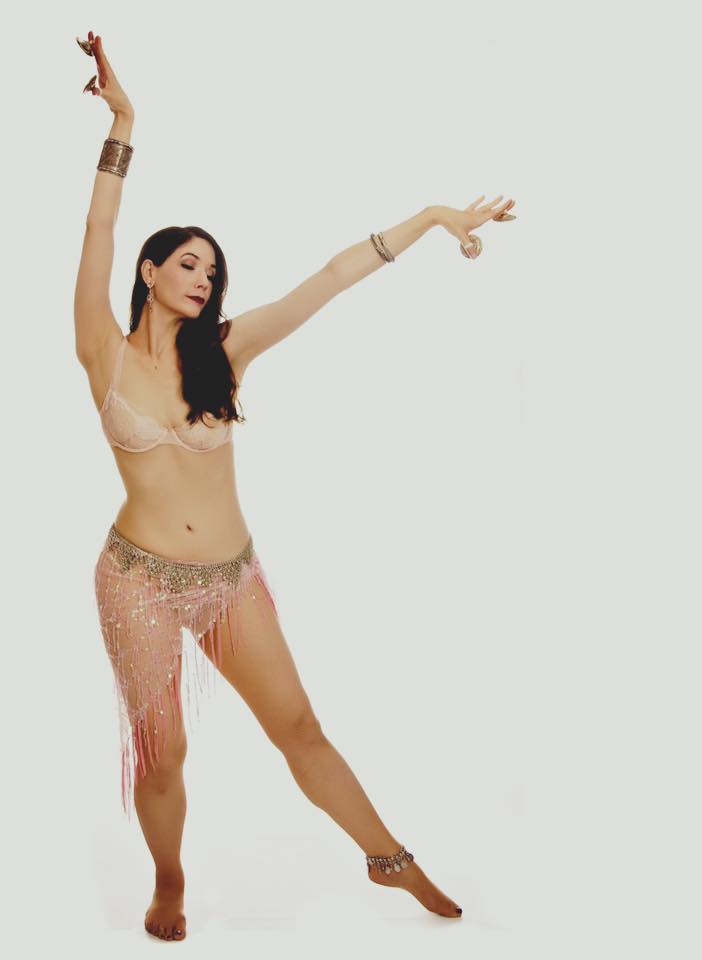 Bellyoga Basiques Warm-up
This short warm-up is how I begin all my bellydance classes, as it's a super sensual series of stretches! It's got sunrise arms, side hip pushes, squats, and even some shoulder rolls and hand swirls. You can use this warm-up before some shimmies or snake hips and then again to wind down afterwards.  What a lovely way to start or end your day while keeping your hip joints soft and supple <3

And if you want even more extensive studies in this sensual dance, then scroll on down to the bottom and subscribe to my online Bawdy and Soul Studio.  You'll get specific classes in all the signature moves of this feminine art form, from slinky snake arms, to mesmerizing mayas, to shimmering shimmies – all the better to be beguiling.  Dance along to a few classes a week, and it won't be long before you're a beautiful bellydancer to behold!

Bellyoga Basiques – Daily Shimmy Drills!
Fire up your fat burning potential in just 15 minutes a day! In this sample from my first Bellyoga Basiques class, Shuddering Shimmies!, you can settle into an assortment of shimmies, including the 3/4 shimmy, both the straight and bent knee shimmy, shimmies in a squat, and even a little layering.
Do this short segment on the daily and you'll master the most basic and beguiling move in bellydance, while building a more beautiful, bouncy butt!  Wanna learn all the basiques of bellydance with yours truly?  Then scroll to the bottom and step inside the online Bawdy and Soul Studio <3

The Lunatique Technique – Super Simple Snake Arms Instructional!
This short tutorial from the fourth class in the intermediate-level Lunatique Technique series will teach you the most mesmerizing of arm movements: the Snake Arm!
In it I give you the beginner basics, including how to articulate your joints using "bird arms," how to master each side and then sync up your snake arms with each other, and even how to regulate the band width of these waves, making them as big or as small as suits you.  Even if you're not a bellydancer, these techniques are great for toning your arms, shoulders, and even your back, loosening any tension in these too often tight spots : )
If you're looking for even more instruction on all the intricacies of snake arms, then step inside the online Bawdy and Soul Studio for the full hour-long class, Super Serpentine Snake Arms! From shoulder rolls and pushes, to shoulder shimmies, to elbow rotations and hand undulations, you'll learn how to isolate each and every one of your joints and then slither your way from point to point. By the end, you'll know ALL of my secrets for creating the rippling, "boneless" arm undulations my audiences seem to love so much! 
Oh and I just so happen to have an example right here, my dear <3

The Lunatique Technique – Super Slinky Snake Hips session!
This is a short segment from my first class in The Lunatique Technique, Slinky Snake Hips!, to start mastering and "milking" this sinuous movement.  Otherwise known as a Taxim, this slinky sway is all about pulling up and in, seducing and sucking in your onlookers from all sides! In this video I go over a variety of ways to get this super juicy movement into your hip joints and even how to keep your lower back safe in the process.
Do this on the daily and you'll have this slinky and seductive move down in no time!  Want even more technique on mastering this move?  Then scroll to the bottom and step inside the online Bawdy and Soul Studio for the full 1.5-hour-long class. This class includes everything from learning to isolate your hip flexors and side oblique muscles, to a captivating movement called the Cairo 8, to synching some snake arms with your snake hips <3

Bellyoga Basiques – Ooey Gooey Hip Circles session!
Ready for some bellydancing on your back? This practice is perfect for getting the ooey gooiest of interior hip circles, all the better to be beguiling with your bellydance!
Doing these on your back allows you to isolate each side of the circle just so, especially when we come up and do it on our toes. Plus you can do these in bed, either to wake up or wind down, helping you simultaneously start or end your day AND perfect this signature circle.  This short session even ends with an energetic flow called "the breath of desire," a juicy gyration that is sure to get you in the mood for even more movement, just maybe in a different position ; )
This session is just a short segment from the full 1-hour-long class, Bellyoga Basiques – Seductive and Serpentine Circles! This class is chock full of a wide assortment of ways for practicing your serpentine circles and arms, including while you're at work, watching TV, and even when you're in bed. Now there's no excuse for not doing your bellydance drills all day long! Just step inside the online Bawdy and Soul Studio by subscribing below and you'll be a bellydancer in no time <3

The Lunatique Technique – Super Juicy Side Circles session!
In this short sesh from my second class in The Lunatique Technique, Super Juicy Side Hip Circles, I cover my favorite ways to make some super juicy hip circles!
First we start with a side hip circle, connecting our diamond dots and smoothing them out from back to front.  Next we dig into the interior hip circle, or omi, then lift it on one leg to make the side circle even juicier. Finally we switch sides and repeat! As you simultaneously massage your ovaries and seduce, you'll be reminded how this feminine art form first formed as a fertility dance ; )
If you want an hour more of these juicy gyrations, then step into the online Bawdy and Soul Studio by subscribing below. This class is chock full of snake hips, side hip circles, and a sexy slink from side to side called "The Cairo Eight!" Trust me, you don't get any classier than the kind of sexy in this class.
The Lunatique Technique – Belly Rolls breakdown!
In this week's video I breakdown the belly roll, a bellydance basique that makes your undulations even more mesmerizing!  
First I show you the three sections of your midsection, all the better for separating and isolating them just so. Then we learn how to link them with some liquid movement, starting with some seated undulations and then some side chest circles. Finally we bring it all back to the belly and put these ripples on repeat.  These moves are magic for working your abs and even help massage away menstrual cramps if you happen to be in the PMS period of your monthly cycle : )
If you'd like to keep on moving like a mermaid, then step inside the online Bawdy and Soul Studio for the full 1.5-hour-long class, The Lunatique Technique – Undulating Walks and Waves! In this third intermediate technique class I cover a wide variety of ways for isolating the upper, middle, and lower sections of your abs, including seated undulations, rolling pushups, and even belly rolls on your back. Then we stand up and let these waves move us forward and back with the undulating walk, the side hip circle with an undulation, the camel walk, and even ending with the side hip figure eight – one of my all time favorite moves!  Start mastering these basics of the belly roll and you'll birth yourself as a bellydancer in no time : )
Lunar Lady
A bellydance flow series for your fertility!

Bellyoga Lunar Flow – Spring Maiden daily practice

This is just a short segment from my 1.5-hour "Spring Maiden" class, a fiery blend of belly dance and yoga to get your menstrual cycle started! It's full of fierce Warrior poses, breath of fire breaks, gunfire glute pulses, and myriad other moves to get your blood pumping and pooling in your womb. This is the perfect daily practice for post-period to start preparing yourself for ovulation and getting back your pep!
You can check out all four seasons of fertility flow right here <3
Bellyoga Lunar Flow – Summer Lover daily practice

Here's the next daily practice for fueling your fertility, a short segment from my 1.5-hour "Summer Lover" class! This one's all about ovulation, including yummy umi's (otherwise known as interior hip circles), shimmering shoulder shimmies, a fluttering butterfly pose, and targeted acupressure points. Practice this the week crossing the full moon and spark your ovaries back to life!
Bellyoga Lunar Flow – Autumn Mother daily practice

Here's the third daily practice for aligning your womb with the moon, and this one's super sensual! As we fall from the peak of ovulation into the period of the "Autumn Mother," it's time to start sinking into our serpentine side. With sultry shoulder rolls, floating chest circles, and the slinkiest of snake arms, you can use this short segment to simultaneously center into your watery womb space and open your heart.  For the full 1.5-hour class, subscribe below and step inside the studio <3
Bellyoga Lunar Flow – Winter Wise Womban daily practice

It's time to come full circle in our moon cycle and reconnect with your deepest center as we drop in for menstruation or the new moon! Through a series of gentle undulations, hip figure-eights, and massage, we work to release and let go before starting the next lunar (or menstrual) cycle in this short segment from my 1-hour "Winter Wise Womban" class. Use this brief daily practice as a movement meditation to ride the waves of your intuition and "go with the flow."
Wanna check out the full hour-long class for free?  Then head on over to my Facebook Bawdy and Soul Studio page and see if you like it <3
Here are some free "moonifestation" audio tracks to help guide you along your Lunar cycle <3
Burlesque Basiques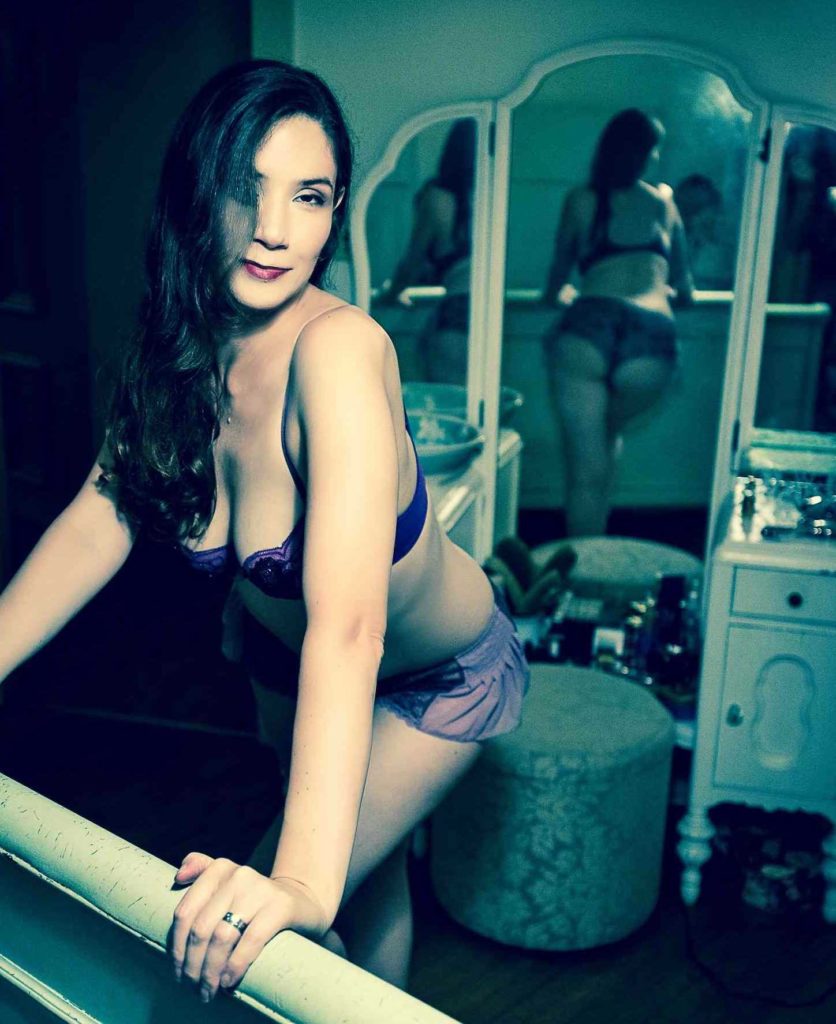 BurleXXX – Pinup on Pointe!
This premiere preview will make you a pinup on pointe! A beautiful blend of burlesque and ballet, this brief balancing act will develop your dancer's poise by moving you through various pinup poses, all while staying on the balls of your feet.
These include passes with hip lifts and drops, pivots from side to side into a "Goddess Pose," and even some extensions for high-heeled kicks. This session is short but has some serious strength training, working your glutes, your gams, and even your abs as you keep your core corseted the entire time! Practice these pinup poses a few times a week and you'll perfect a natural grace that others can't help but notice : )
If you want even more buryl-q ballet, then step inside the online Bawdy and Soul Studio this week for the full 45-minute class, BurleXXX – Ballet Balance! In this burlesque class we use a chair back as our barre and move through all the ballet basics, including tendues, attitudes, ronde de jambes, developes, and battements. All the better for staying on pointe and maintaining your poise, as you strut, stride, and maybe even strip ; )
BurleXXX – Showgirl Legs!
In this short stretch from my first BurleXXX class, Showgirl Legs!, we tap into your inner showgirl and show off your stems! This 10-minute segment can be done daily to tighten your tummy and thighs, and oh so soon you'll be able to show off your tautness and hotness ; )
Want the full hour-long class of stripper stretches and Pilates practices for a super sexxxy workout that will shape you up in no time? Then become a monthly member of my online Bawdy and Soul Studio below <3
BurleXXX – Pinup Pilates!
Now it's time for some Pinup Pilates, so we can swivel and show off those Showgirl Legs! This short session uses targeted circles, lifts, and "clamshells" to streamline your stems, thin your thighs, and even sculpt a high-end rear my dear. So put these Pilates presses to work 2-3 times a week, and you'll have your own set of Pinup pins in no time : )
And don't forget, there's another 45 minutes of this targeted toning inside the studio, so subscribe below if you want even more to show off <3
BurleXXX – Burlesque Booty Chair Break!
This 10-minute booty break uses your seat to stretch and tone your thighs and tooshie, sculpting your own sinsational seat to sit on!
First we slide under your (sturdy!) chair and use it as a prop in some more pinup Pilates. Then we get on our backs and use it for some bridges and bumps, building a better burlesque booty. Finally we come into some crunches and fan our legs with flair on either side of the chair.  Fit this fitness quickie into your week 2-3 times and you'll tone your tuckus in not time ; )
If you want the full hour of fitness with these sexy exercises, then subscribe to the online Bawdy and Soul Studio below and bring a chair to our newest class, BurleXXX – Burlesque Booty!  In it we practice many, many poses and pulses, and even some Pilates, to perk up your posterior. This class is perfect to prepare your derriere for "bum"bastic bumps and shocking shimmies, as well as to stretch your stems for some streamlined squats and struts.  So step inside by subscribing below and I'll save your seat ; )
Sacred Sexercise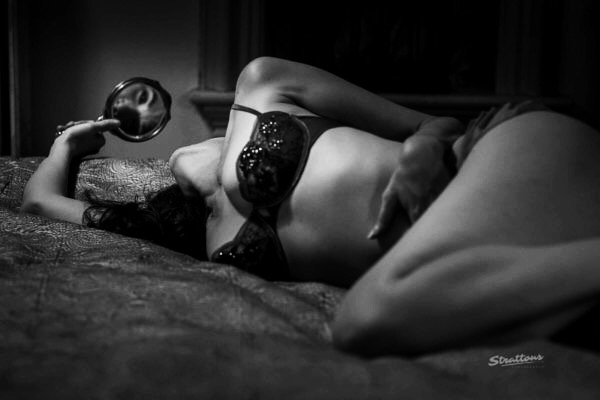 Basic & Beautifying Breast Massage
This popular video from my epic Eggstatic Eggsperiences online course demonstrates the two basic breast massage techniques that can be used for clearing, firming, and augmenting the breasts, as well as cultivating self-love and self-care. Practice this a few times a week (or even daily!) and watch your headlights light up with love <3
Note:  Remember to use the second technique with discernment if you have any issues with your breast tissue or breast cancer.
Ovarian Breathing for Beauty!
This video is a breakdown of one of my favorite breaths (and a Taosist secret for staying young and beautiful) – Ovarian Breathing!  After all, why let all of your womanly goodness go to waste, when you can use it for whatever you want?
When you learn to tap the energy of your ovaries and breathe it through your body, you'll notice increased energy, lighter periods, boundless creativity, and nature's true fountain of youth!  In this instructional you'll learn all the intricacies of Ovarian Breathing and how to make the best use of it. Make this breathing a regular part of your practice, and you'll discover just why I call it "The Beautiful Breath," namely for the dewy, post-coital glow it imparts ; ) So dig into your ovaries my dear and bring on the beauty!
P.s. Since this is taking your ovarian energy elsewhere, make sure not to do this if you are pregnant or trying to get pregnant : )
Oh, and if you want 25 more minutes of instructions on this subject, then make sure to subscribe to my subscription online Bawdy and Soul Studio below. In the full tutorial I also show you how to find and massage your ovaries, as well as a "safer" variation of this technique called "The Serpent's Breath," otherwise known in Taoist traditions as the Microcosmic Orbit. This is the kind of stuff that really satisfies your esoteric side : )
Sensual Self-Massage
This thorough and sensual 30-minute self-massage from my signature online course, Eggstatic Eggsperiences, can be used to awaken your entire subtle erotic body slowly and surely – and guess what? It's completely chaste and clothed!  Using gentle strokes, flowing breath, and your imagination, I lead you along the various paths of pleasure that criss-cross your body, allowing them to clear, awaken, and eggspand for even more orgasmic flow. It even ends with one of my favorite techniques, "The Breath of Desire," to get your body humming and hungry for more <3
The follow-up to this foreplay is my hour-long Full Moon Eggstasy! class, newly added to the subscription online Bawdy and Soul Studio below.  In it I cover everything from orgasmic bridging, to "The Big O," to "The Goddess Undulation," and even end with something I call "The Deep Throat Breath," allowing them all to unleash your unbridled eggstasy.  Do this video 1-3 times a week inside the studio and see if your orgasms don't increase eggsponentially!
P.s.  If these lessons leave you hungry for even more O's, then make sure to sign up for my upcoming Eggstatic Eggsperiences online course, which is sure to satiate your desire!
Over the course of one month I'll guide you through each phase of the moon, initiating you deeper and deeper into your feminine, sexual essence at each point along the way. Like Lady Luna in the sky, we'll wax and wane through The Maiden, The Lover, The Mother, The Sacred Sexual Priestess, and The Wild & Wise Womban, all along allowing our yoni eggs to slip and slide inside us. This online initiation will gently lead you through everything you need to know for becoming healed, whole, and deliciously orgasmic again.  You can read more and register right here, my dear <3
Sacred Spot Massage
Now this squishy session is sure to make you squirt! Straight out of my Eggstra Eggstatic Eggsercise online immersion, this comely clip shows you how to massage your own G-spot from the inside out.
That's right! Using seated undulations, targeted pelvic tilts, and a technique I call the "Orgasmic Birthing Breath," you too can tickle your own fancy and maybe even learn to tinkle too. Whether you have an egg in or not, this brief tutorial debriefs you on finding your sacred spot, bearing down til it's hot, and then making way for your own womanly waters to be shot. Enjoy the eggstasy!
If you'd like even more instruction on this sacred sexercise, then step inside my subscription online Bawdy and Soul Studio below for the full 45-minute class!  It's full of loving breast massage, endlessly eggstatic undulations and belly rolls, and even a wide-legged birthing variation for fully opening up.  It's all chaste and completely clothed, so don't be shy – just give it a try : )
Sex-Y-oga

This short Sex-Y-oga from the Back! session from my Kama Sutra course page will sensually stretch and train you for doggie-style, so your p*ssy's panting for more!  Both with your bare belly on the bed and with your ass in the air, we move through moves that'll condition your clitoris for a quickie, help you let go into your liquidity, and start breathing your way to bliss.  This is my favorite position, as it allows me to fully surrender to sextasy and just receive.  You can use this session nightly before bed to bring yourself back into your body, steam up before self pleasuring, and even melt open before more ; )
P.s. If you want the full Kama Sutra package, then click the link to learn all about these essensuals for sensational sex. The course page includes three 20-minute sessions of the full Sex-Y-oga class, so it's a snugger fit in your schedule, as well as a demure 1-hour demo from me on the basics of yoni and lingam massage. There's also an astounding assortment of other resources to make your lovemaking sessions sensational, including my favorite online videos for foreplay, as well as instructionals for G-spot and cervical orgasms, Orgasmic Meditation, and even some simple sex magic.
And if you wanna save even more, then step inside the subscription studio below! There's a special sale button there just for you that takes $33 off the cost of the course page. That means you get to step up your sexy studies and dance a full month for free – yippee!
"Moon"thly Membership – $25/month